Lowender Peran 30th October – 3rd November 2019
Keep checking back to this page as we will publish information on groups as soon as we have it.
What if your mother tongue is an ancient language of a land that you've never lived in?
Saturday - 7.30 - 9pm
Already fast becoming a recognised and household name in the Traditional Music Scene, Project Smok brings together an array of musical aspects; immense instrumental virtuosity, blistering drive, infectious rhythm, delicate sensitivity…
Sunday - 7.30 - 9pm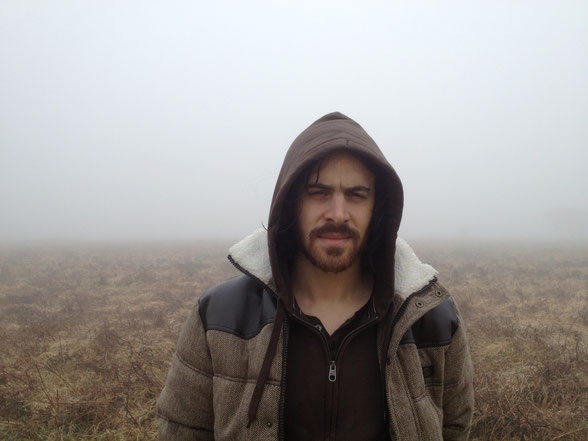 At 35, after playing on stage accompanied by acoustic instruments or human-beatbox and having an international career already well launched, Krismenn released a first audacious album mixing rap and songs, electronic music, field-recording and acoustic instruments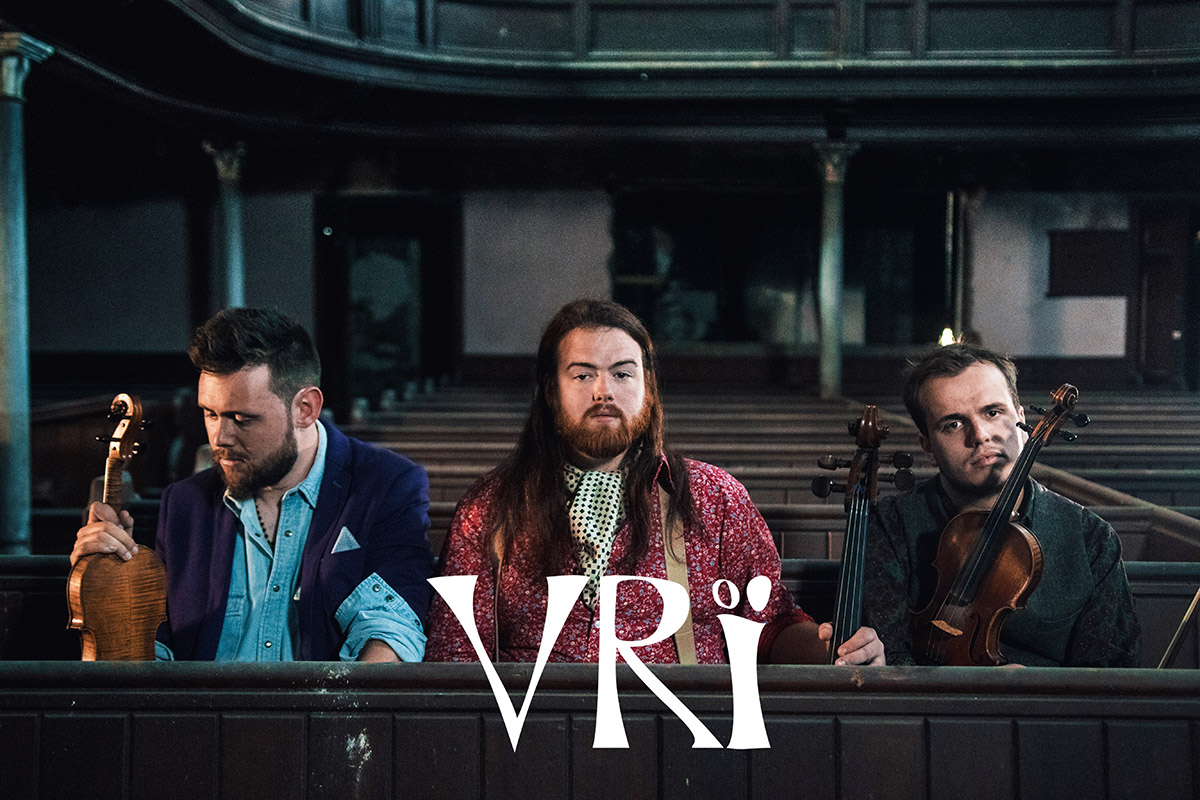 Nominated for BBC Radio 2 Folk Awards 2019 - Best Traditional Track!
VRï are a brand new trio to represent Wales and its music in the fast-evolving world of 'chamber-folk'. Bringing together the experience of Jordan Price Williams (cello) Patrick Rimes (violin, viola) and Aneirin Jones (violin) they play tunes and songs from the Celtic nations and beyond.
Friday - 7.30 - 9pm
Founded in 1980, Ny Fennee is a dynamic young dance group, based in the North of the Island. Under the leadership of Juan Garrett and Sue-Ling Jaques, the group works hard to evolve traditional dances along new lines. Ny Fennee means 'The Heroes' in Manx Gaelic.
Sophie Stephenson & Friends - Scotland
Sophie Stephenson is a musician and step dancer from Fort Augustus, in the Scottish Highlands. Bringing her traditional dance steps into the 21st century, she is joined by musicians Jamie MacDonald, Christian Gamauf, Jack McRobbie and Gaelic singer Catherine Tinney.
"It's Welsh - It's Folk - It's Traditional"
Dawnswyr Tawerin are from Swansea. Tawerin literally translates as the 'folk of Swansea', a very appropriate name for a Folk dancing team from Swansea. Tawerin was founded in 1975 by former members of the highly successful Swansea University.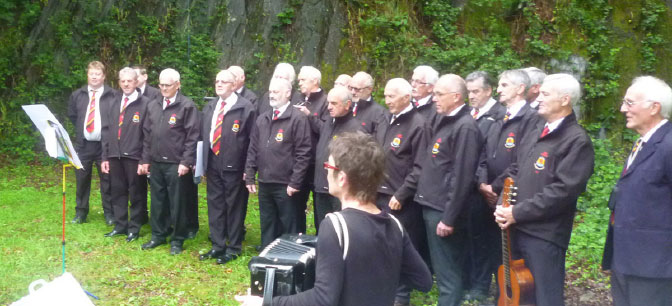 Cor Clwb Rygbi Aberteifi - Wales
Next May Côr Meibion Clwb Rygbi Aberteifi will celebrate its 10th anniversary. Not bad when you consider that the MD, Rhian Medi swears she agreed to conduct only because she believed the boys 'wouldn't last more than a fortnight!'
Jerry O'Reilly & Rosie Davis - Ireland
Jerry O`Reilly from Dublin is a singer and dancer. A founder member of Brooks Academy in 1982 he is still actively involved and teaches a weekly dance class there. Rosie Davis has been a dancer and musician for almost all of her life, born in Liverpool into a musical family, she was encouraged to dance from the age of three.
Mark Lawrence - Isle of Man
An accomplished guitarist from the Isle of Man who enjoys playing a range of styles on both acoustic and electric guitars.
We are pleased to welcome back a group from one of the Diwan Breton medium schools this year. Lowender Peran has a long standing relationship with the Diwan schools, enjoying visits from 'Pennduiged Ar Releg' on numerous occasions led by their teacher, long-time festival supporter and Cornish-girl Morwenna Jenkin. We look forward to celebrating with the next generation over the weekend.
Pete Berryman is a guitarist, composer and singer songwriter who arrived on the acoustic music scene in the late 1960s with The Famous Jug Band which also featured Clive Palmer of the Incredible String Band.
Oll an Gwella are the rehearsed, acappella, male chorus from NMVC, with a repertoire of 100+ songs including Shanties, Cornish folk, 1960s-classics, seasonal & sacred 4-part harmony.
The Brim specialise in providing an upbeat Ceilidh ('Ceilidh' or 'Barn Dance') for weddings, birthdays, fundraisers and other events however big or small across Cornwall, Devon and the UK.
They take their name from the Cornish word for 'heather', which is often used as a symbol of Cornwall and
incorporate the colours of the flowers into their costume.
Local accordian player Matt Bray will be leading our beginners sessions.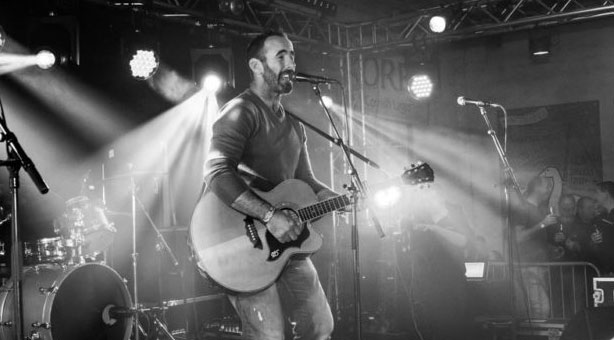 Will can often be found singing with a Falmouth based, male vocal group known as The Oggymen, who are highly regarded for their sense of humour, beautiful four part harmonies, and heartfelt songs.
Cornwalls Foot Stomping Celtic Folk Band. The Stowes are a traditional Celtic music band from Cornwall, UK who play a stimulating mix of Traditional Folk, of mainly Cornish, Irish and Scottish origin, as well as rousing sea shanties with scintillating, foot stomping instrumental arrangements.
Kemysk bring Cornish traditional dancing to life with gusto. Their joy and pride in Cornwall's rich and distinctive heritage shines through their energetic performances.
Are a Cornish duo bringing a jaunty approach to traditional Irish folk and contemporary tunes. Banjo and mandolin player Jamie has been playing acoustic instruments for over 10 years, his family hail from Wexford allowing the Cornish/Irish fusion tones to ring through. Along with acoustic guitar player Dave they are currently recording their debut album of sea shanties, Irish folk and nautical melodies.
With driving reels and high energy jigs they are guaranteed to get you up and dancing.
We are a group of musicians and dancers that are enthusiastic about the Celtic revival and Cornish music and dance in particular. Bolingey is a hamlet just in-land of Perranporth, on the North coast of Cornwall.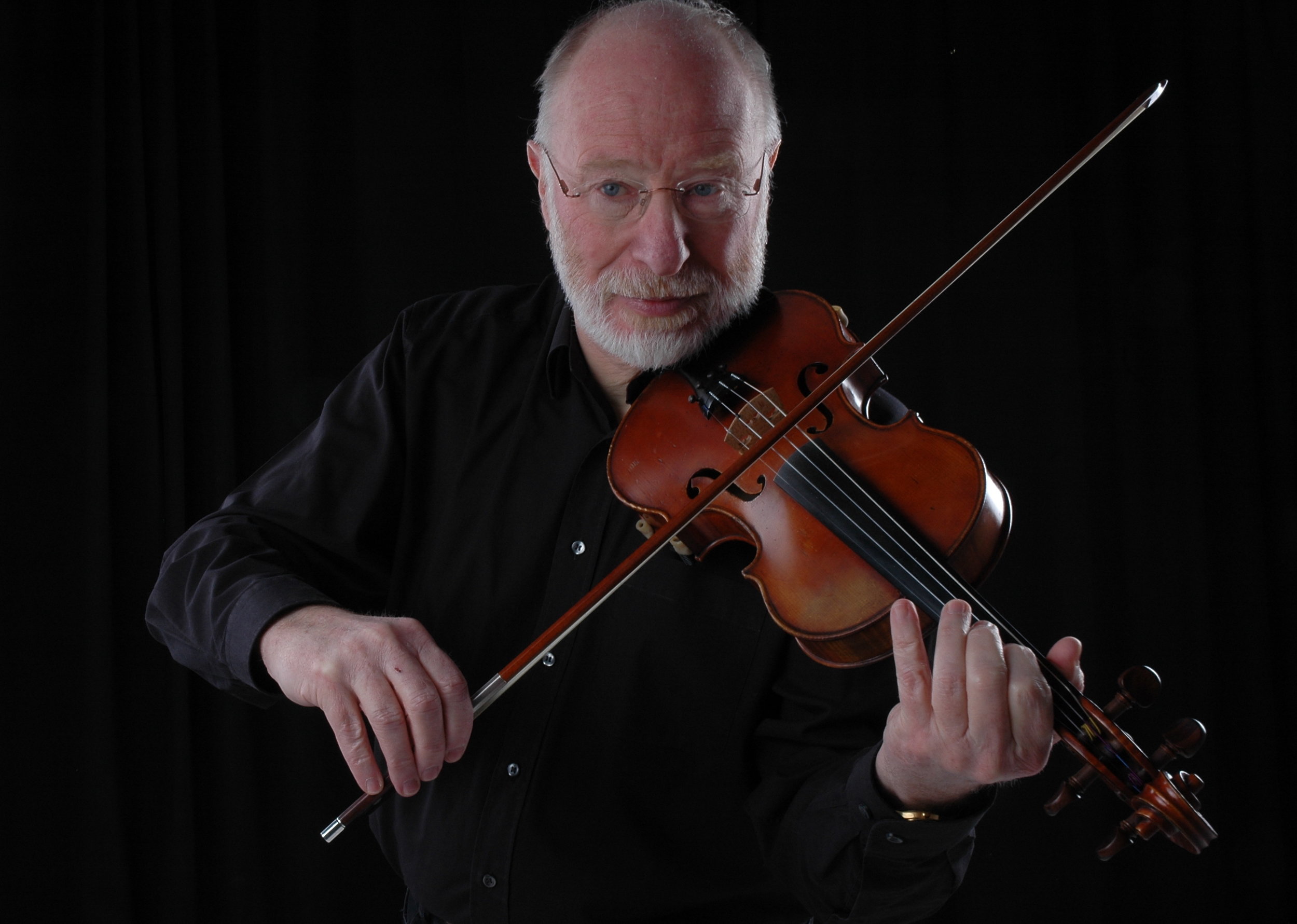 Mike O'Connor is a nationally respected storyteller and musician. A Bard of Gorsedh Kernow he has been honoured for research of early Cornish music and is well-known for his work on the music for TV's Poldark.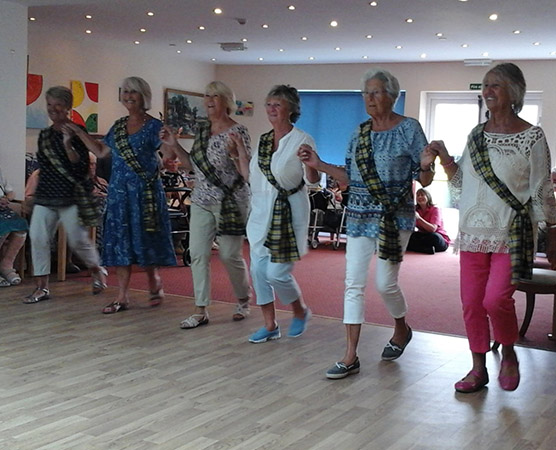 The primary role of the U3A is to provide life-enhancing and life-changing opportunities for learning for semi-retired and retired people, either to gain new knowledge and insights or to expand on what they already have.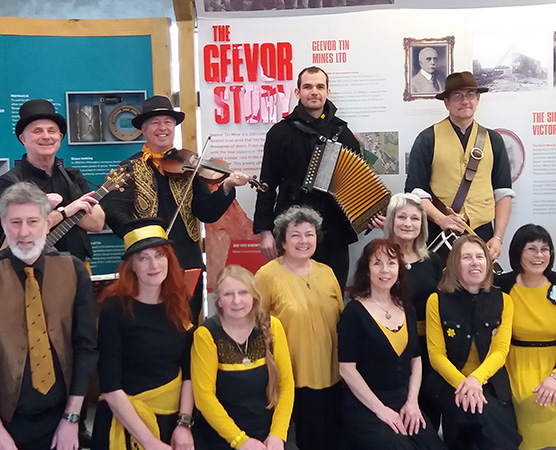 As a Cornish/Celtic/Historical music and dance group we have been learning, teaching and entertaining for six years and are looking forward to doing all three at Lowender Peran this year!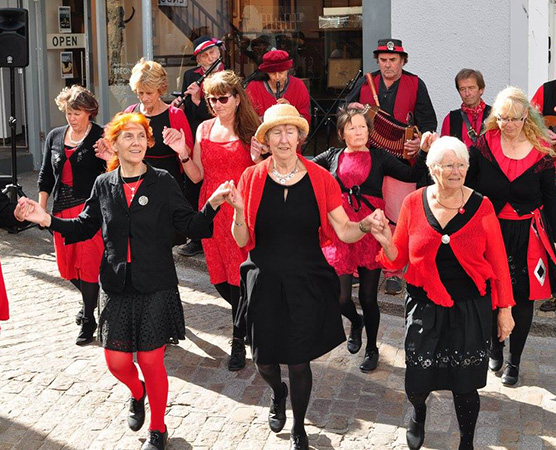 We perform, teach and encourage all forms of Cornish Dancing: set, scoot, nos lowen and guise. This year we are exploring the 18th Century tunes and dances in Mike O'Connor's 'Petticoats Tight, Petticoats Loose' book, and preparing a display set from these.
Hevva was formed by an enthusiastic group of like-minded dancers and musicians who wanted to pool their extensive experience to promote, teach and display the traditional dances of Cornwall, one of the Celtic nations.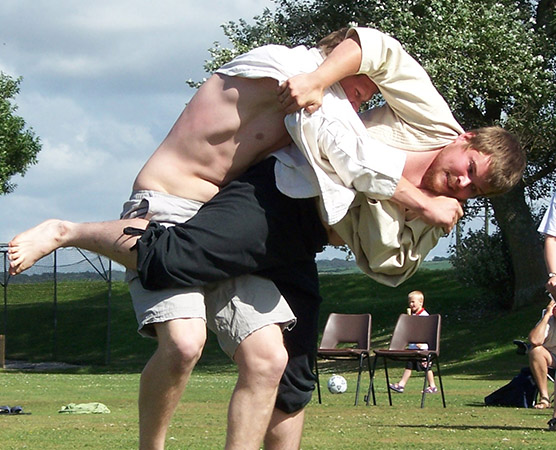 Wrestling is a distinct Cornish tradition that survives to the present day. The history of Cornish Wrestling goes back so far it is lost in the midst of time.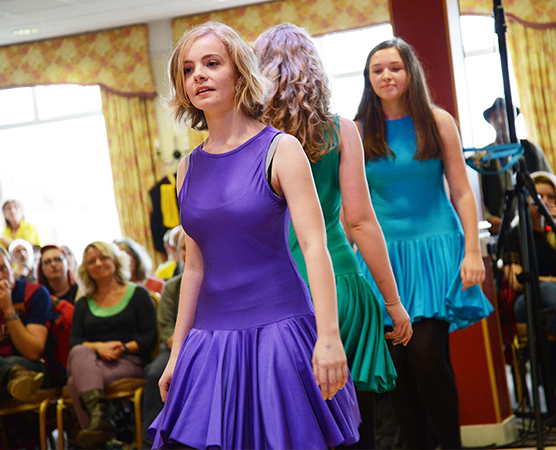 Tan ha Dowr are a young Cornish dance and music group.
Tan ha Dowr means 'Fire and Water' in Cornish, themes which are reflected in the colour of our costumes.
The group was started up in by young people who were interested in Cornish music and dance, but wanted to do something more exciting and experimental with it, to make it more up to date and relevant for them.
Newquay Rowing Club Singers
Newquay Rowing Club is where modern Cornish Pilot Gig racing started and it is still home to the Treffry, a boat built in 1838 and used as a standard design for all new gigs.
A living room in North East London isn't the first place you would think to find traditional Cornish Music being played, yet that is where London Gwerin was born.
Tris, Helen and Chris have been playing Irish music together for many years, never tiring of a tune and a pint. Previously known as The Falmouth Session, a ceilidh and session band, KRELYS are now joined by Keith Mountifield on bodhrán, and are creating exciting new arrangements and songs, and developing their sound to create a bigger, more upbeat feel, well suited to festivals and dancing!
TIR HA TAVAS
Formed in February 2013, Tir ha Tavas, which means "land and language" in the Cornish language Kernewek, is Delia Brotherton, Myrghwyn Melynor and Dave Brotherton, Ilewydh Porthia, bards of Gorsedh Kernow, musicians and singer-songwriters based in St Ives, West Cornwall.
Is a group of musicians and singers that focus on the performance of Cornish music.